A puppy pad is a great tool to help some puppy owners potty train their puppies. Some people use them because they cannot take their dog outside or it is impossible for the dog to go out multiple times a day. However, you often face some problems with them like keeping puppy pads in place
You should not place the pads on the carpet either because your young fellow may confuse the pads with the carpet. Both are soft!
So, how can to keep puppy pads in place? Here are a few things that can help.
1- Get the puppy pads with adhesive tape:
There are many brands that sell puppy pads with adhesive tapes on the corners. You can simply switch to them. 
For example, Glad for pets charcoal puppy pads with adhesive tapes.  The sticky sides will keep the pads from sliding. You can also attach one pad side to the wall for your male dog. 
Unlike other pee pads, these are in black/dark gray color because of the activated carbon component. This is a plus point because this factor will immediately help neutralize the dog's urine odor. 
However, your dog may not accept gray pads immediately if they are used to going on the color white. But it is easy to retrain them; just give them a treat when they step onto it.
Other good options are WizSmart puppy pads with stay-put tapes Bulldogology Puppy Pee Pads with Adhesive Sticky Tape. 
2- Get a pee pad holder:
If you do not want to change the pee pad brand, the second best option is to use a pee pad holder. 
Just place the pad onto the holder, and it will keep the pad from slipping or sliding. 
You can choose a silicon pad holder like HONEY CARE All-Absorb Large Silicone Pad Holder or Four Paws Wee-Wee Silicone Dog Housebreaking Pad Holder. 
Both are made of silicon (as the name suggests) and large for an average-sized puppy pad to fit in. 
Or you can also get a pee pad holder tray like IRIS USA Pet Training Pad Holder with a non-skid rubber bottom to prevent scratches on the floor. 
The tray that comes with PETMAKER artificial grass puppy pads is also suitable to use as a pee pad holder. 
3- Switch to grass pads:
If you are concerned, you can switch to dog grass pee pads. They are even better. Grass pads are great because when your dog gets used to using grass as a potty spot, he will easily go on the grass when you are outside. 
Simple puppy pads are also not biodegradable so switching to the grass is a great option you can choose. 
There are many good companies that deliver real grass patches. You can also subscribe for regular grass deliveries. 
Porch potty fresh grass patch (dog training sod) is a good option. 
4- Get a porch potty:
If you permanently use puppy pads as a potty spot for your dog, I recommend Porch potty premium. 
It's a permanent setup for your dog. Just set it up with a water source, and don't worry about clean-ups. 
The grass pad won't slip; when your dog is done, just open the water source, and the water sprinkle will clean up the mess. The drainage hose will take care of the used water. You can also set a timer for the water supply. 
(you have to pick up the hard mess if your dog did it)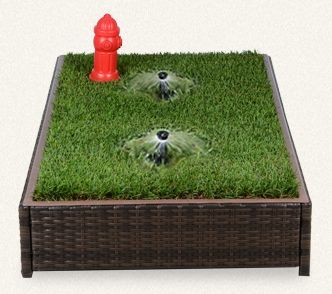 You can use real grass patches or synthetic grass on the porch potty. 
The best part is that you can buy additional accessories to add the features to the porch potty like a ramp, side panels, scented hydrant, canopy, and a protective lid. 
Porch potty premium is an expensive product. But no worries! They've got you covered. You can pay the price in 3 equal installments. 
5- Use litter tray:
If you've got a small breed dog, you can place the pad in a litter tray or an automatic litter tray.
But using a liter tray is only suitable for very small dogs.  
---
How to keep puppy pads in place in a crate?
Well, you are not supposed to place puppy pads in a crate. A crate is a den for a dog. We usually use this "dog instinct" to potty train them. 
Once they feel comfortable peeing in their den or soiling the place where they go to sleep, it will be hard to potty train them. Even if they are potty trained, there are huge chances they will go through potty training regression. 
So, we don't recommend placing the puppy pads in the crate. However, if you still want to do this, the same options will help you keep the puppy pads in place in a crate:
Pee pad holder
Pee pads with adhesive corners. 
Using natural grass pads. 
Litter tray for small dogs. 
Conclusion: How can you make dog pads less slippery?
Puppy pads can slide away. How can you make dog pads less slippery? You can use a pee pad holder or switch to a brand that offers pee pads with adhesive tapes on the corners. 
You can also stop using normal puppy pads and switch to real grass patches. Or get a permanent set-up for your dog like a porch potty.
Read more: